A BRIDE FOR THE SHERIFF by Sarah Hodgins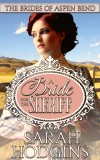 A BRIDE FOR THE SHERIFF by Sarah Hodgins
Willa Richmond is trapped working in her stepfather's store every day. Her future had looked bleak ever since her loving mother had passed. A stray copy of a newspaper featuring ads for mail order brides gives her a glimmer of hope for starting her own family, as long as she can find the right man to build a new life with.
Jon Baker still hasn't adjusted to being a widower. Between raising a son and keeping a farm, he barely has time to strap on his gun belt and sheriff's badge. He'd vowed to himself that he'd never love another after losing the one woman in his life, but a mail order bride could be the answer to all his problems. As long as she agrees they'd just be friends, that is.
A loveless marriage isn't what either of them had ever wanted, but it turns out exactly what they need. Until love changes everything.
This is a sweet, clean, historical western romance. It's a complete story with a romantic, happy ending.